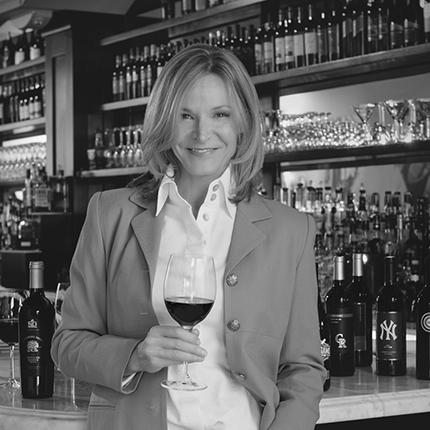 Diane Karle
A proven business builder and entrepreneur in the sports, entertainment and media industries, Diane has historically uncovered early stage business trends in emerging lifestyle verticals. Diane is currently the CEO and Founder of Wine by Design (WBD), the first strategic wine lifestyle and business solutions company.
Diane's career path is aligned with the trajectory of the sports, lifestyle and entertainment industries. She spent over 2 decades at sports, entertainment and media giants, IMG, Aegis and Velocity Sports and Entertainment (now MKTG). Working alongside many of the original business pioneers, Diane was able to gain a 360 lens across global property development, corporate brand consulting, talent and rights negotiations and digital strategy.
She began her career in sponsorship sales at a boutique Tennis agency, that owned a Premier WTA women's tournament, recognized as the warm-up to the US Open. As the firms first full-time salesperson, Diane increased sponsorship revenue from $500k to over $7mm, and assisted with the television, print and radio partner negotiations. The tournament was later sold to East Germany.
Joining IMG in 1996, Diane was the first female on the core business development team – servicing all IMG business units. In addition, she played a pivotal role in building undervalued assets in emerging lifestyle segments – this included two of IMG's assets; Fashion Week and the Grammy's (NARAS). She successfully redefined the sponsorship strategy for each, resulting in multi-million-dollar blue chip contracts and national marketing campaigns. During the dotcom boom, she stepped in to launch IMG's first venture backed content website, with over 150 content deals featuring IMG's premier assets such as Wimbledon, Sports Illustrated Awards, PGA events, Tiger Woods, Heidi Klum, Derek Jeter, Joe Montana, Mohamad Ali, Peyton Manning, and outside contracts with professional sports teams and entertainment properties.
After IMG, Diane and was brought in by CEO, David Verklin, of Carat (Aegis) to build the agencies first sports and entertainment consulting business. Her business development and leadership skills were essential to the divisions start-up success. Subsequently, she led the acquisition of Velocity Sports & Entertainment (MKTG) to increase Carat's footprint and establish a global business for the company. The acquisition delivered $16 million in revenue and added formidable blue-chip firms including FedEx, Cingular, IBM, and Home Depot to Carat's portfolio.
In 2008, Diane identified white space at the cross sector of the multi-billion-dollar sports and wine industries. By leveraging some of the world's most recognized sports and entertainment franchises, the company successfully created and managed new revenue channels, allowing the sports industry and WBD to monetize the wine category. WBD was the first company in MLB history to ink an exclusive wine licensing contract and was also instrumental in the recent NFL team by-law modifications—essentially changing the landscape for team branded wines and paving the way for more lucrative sponsorship deals with the major wine companies.
Her advances have been chronicled in national and regional press, including Fast Company, Sports Business Journal, Huffington Post and regional TV broadcasts. Diane has repeatedly illustrated her passion to drive change and identify unmet and undervalued business opportunities. She is the recipient of the 2018 Sports Business Journal Women's Game Changer Award and selected as one of the publications executive mentors, for women in sports.